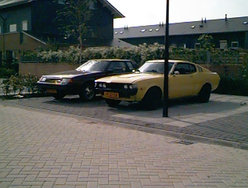 This is the TA28 I bought when I got a tip of the chairman of the dutch celica club as a nice parts car for my TA60. It's not quite the same model as you can see below. The car was bought anyway, as it's a nice model and pretty rare. To bad it's imported from germany in 1980, as it's now officially 4 years younger then it actually is.

13 December 2002 I information about the production date of my car. It's the second car produced in November 1976.
When you look at it from a distance it's in not a bad shape, but wait till you see the closeups... there are lots of extra pieces of wood and tiewraps used in the car. There was one good part in the interior of the car... The dash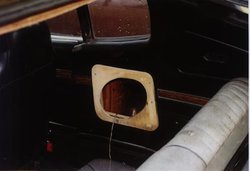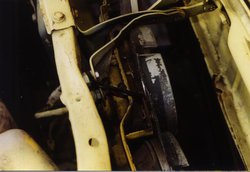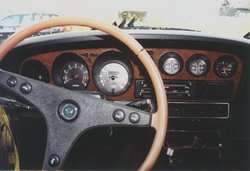 The engine however is in perfect condition. It has won a price for the most power for a 2000cc car. While collecting the price I wondered who had switched my 1600cc engine. To bad I couldn't keep the cup or even the picture. :-(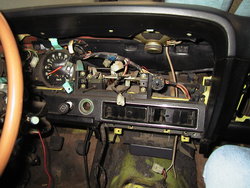 The car went to the garage for a safety check and failed misserably. The garage pointed out that the mountpoints of the gastank were their major concern together with the fact that tha car pulled to the right when using the brake. After fixing the brakes we decided to look under the car. There we found a small hole in the bottom of 1-2 inches. After we removed all the rust we decided to start the restoration immediately. (we found that the hole was approx 20 inches long)

This was the reason it failed the safety check, I'm missing a part. (and found it again)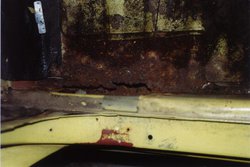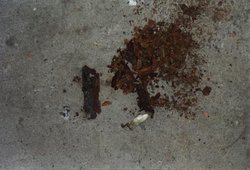 So as of april 30th 2000 we started the project, but it stopped due to some other projects. This is the current state of the car.
I've added a nice app to calculate all costs made for this car. Just folow the link.
If you want to take a look at all the pictures I've got online, take a look here, just click on the image to view the fullsize image.
Last update: 20 may 2023